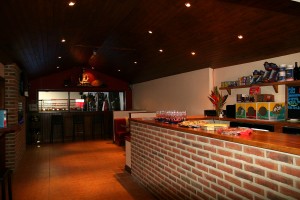 Based on Priestley Way, our Manor Royal Gym is only a stones throw from the new cafes and food-joints that have popped up on the Crawley Industrial Estate.
Namely Charlies' Deli and Subway.
A little ironic?
The gym had been based on the Gatwick Road above SL Restoration and after many a happy year there our classes had just grown too popular and we need more space.
That's when the boss, John Jarvis, decided to up sticks and move literally around the corner to Priestley Way.
With over 5,000 sq. feet of industrial unit to work with he was quickly able to expand our timetable, improve our gym facilities and expand our reach.
Where we once catered almost exclusively to those looking to learn Muay Thai — a form of kickboxing from Thailand — we now could move offer other martial arts and open a range of fat burning fitness classes to suit everyday people.
Fortunately for us, Muay Thai is really popular with people who want to get seriously fit.
It's a tough, total-body workout and very intense which means it's a great calorie burner and an excellent way to lose body fat.
That lead to the opening of our Ladies Only Fitness Classes which combine the best fat burning aspects of Muay Thai with exercises designed to strengthen you legs, core and your upper body.
When you visit our gym you'll find a range of functional training equipment.
Our Manor Royal Gym Equipment:
Wide range of dumb bells and weighted plates

Smith machine and bench
Multi-gym facilities for upper body strengthening
Dip and chin-up stations
Rowers and cardio equipment
Fit balls (or Swiss balls), Bosu Balls and Bender balls for core conditioning
2 boxing rings to move around and hit the pads inside
Dozens of Thaiboxing pads, Focus pads and belly protectors for punching and kicking
A range of punch bags and heavy bags
B.O.B. a mannequin designed to look like a person to improve accuracy and have a little fun
Functional fitness zone (including tyres for flipping, lifting and jumping and a sledgehammer)
Battling ropes
A wide variety of slam balls and medicine balls
And the equipment list is ever growing as we expand our classes and keep up-to-date with the best fitness, strength and conditioning information in the industry.
Our Fitness Classes Include:
Private tuition in Muay Thai, Boxing and Brazilian Jiu Jitsu
Ladies Only Circuit Training Classes
Ladies Only Morning Fitness Training
Non-contact Muay Thai Kickboxing Classes
All-Level Muay Thai
Fighters Only Muay Thai
Brazilian Jiu Jitsu (from beginner to advanced)
Kids Muay Thai Kickboxing
Kids Brazilian Jiu Jitsu and Grappling
If you like to get fit, learn a martial art or come along and have a look at our impressive Manor Royal gym (yes it still looks like an industrial unit on the outside. just wait to get inside) then give us a call on 01293 552 511 or enter your name and telephone number in the inquiry box on this page.
Thanks for reading and get ready to get seriously fit!