Punch… Kick… Sweat!
Kombat Fitness Classes

in Crawley
Kombat Fitness is a non-contact fitness class that takes the best exercises form the world of Mixed Martial Arts, Thaiboxing and Boxing to create a high intensity, calorie burning, fat torching fitness class.
You'll punch, kick, push, pull, lift, slam, flip, jump, sprawl – and get very sweaty – that's a good thing!
For

all fitness levels and all abilities

— exercise with a smile and enjoy your training
Work your own pace —

we'll push encourage and motivate you

while always making sure you're training safely.
You'll learn to punch, kick, knee and – gasp – elbow!

Really good fun, very different

– you'll be learning a skill and getting in amazing shape at the same time.
Massive calorie burner — thanks to the high intensity training
You'll hit pads —

de-stress and walk away on an endorphin high.
What will I be doing?!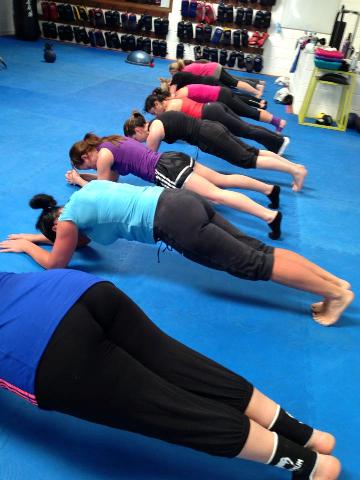 Our classes are varied week to week.  After a warm-up to prepare you body for action you'll work through a range of exercises to work your entire body.
You'll learn how to punch and kick pads with a partner.
You'll punch and kick the punch bags with a few surprises thrown in to keep you on your toes and get your heart rate pumping.
During our Kombat Fitness classes you'll  work your upper and lower body, and entire mid-section.
From flipping tyres to slamming ropes, planking, push-ups, chin-ups, kettlebell swings – nothing off limits.
All our classes are supervised by our friendly instructors, watching your technique and motivating you to get the most out of your workout.
(call 01293 552 511)