A big well done to all the McKenzie Brazilian Jiu Jitsu boys and girls (based here at the Crawley Martial Arts Academy) for their performances at the weekend.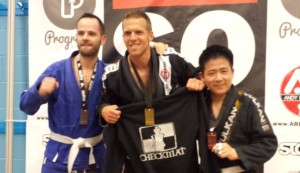 It was a big team out (Graham, Paul, Dan, "Keys", Jim, George, Wayne, Mike, Przemyslaw and Joanna) that took home three golds and plenty of silvers – several of whom are still relatively new blue belts in a division with plenty of people ready to make the next step up to Purple.
The Checkmat guys (our lineage is via the Viera brothers in Brazil so we're the McKenzie BJJ team, part of Checkmat and based at the Crawley Martial Arts Academy) did fantastic with 18 year old George Kolorov fighting in the Adult Blue Belt, Heavy Weight division – winning his first two fights convincingly before making a tired error in the final to take a silver medal.
Super-slim, super-strong Graham Day pulled guard twice to fight from his favourite position on the bottom winning with two triangle chokes, while Paul Brimelow won his first fight with an armlock and his second submitting his opponent AFTER he'd already gone 16 points up. An impressive victory for Paul.
Przemyslaw and Joanna both won Silver Medals, while Dan and Steve took home Bronze medals for the team.
All in all, it was a fantastic performance from a team that's just getting stronger and stronger and with the Oxford Open only around the corner – next month should  be even better (and hopefully we'll bring an even bigger team).