Crawley BJJ – Sam Hewitt took gold at the Grapplers Showdown in Southampton at the weekend.  The purple belt who's trains at the Crawley Martial Arts Academy in Manor Royal had been training up to twice per day in the run up to the competition and entered both the Gi and No-Gi competition.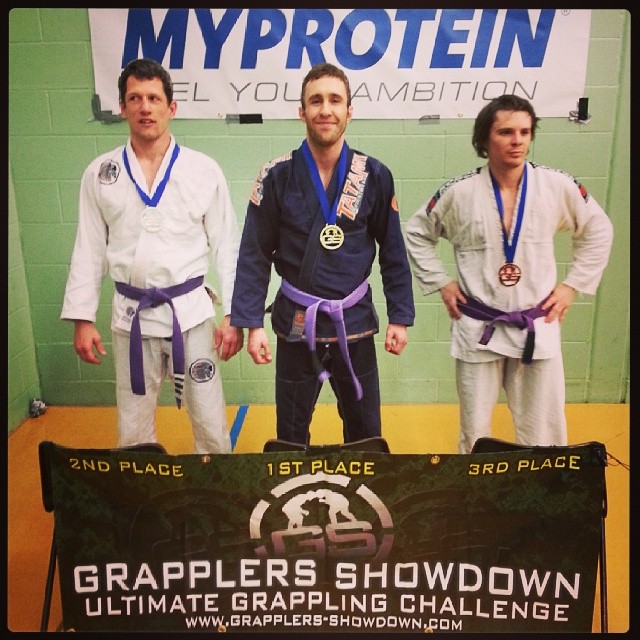 In the No-Gi absolute competition Hewitt won his first fight by submission (via Gogoplata).  The Absolute division is open to all weight classes so when faced with a bigger opponent in the next round Sam went on after getting caught in a guillotine-like choke by an experienced wrestler.
Sam started here the UK before moving to the States to study.  While there he spent time training under Pedro Sauer while in Utah before moving to Florida where he trained at the infamous Top Team America Team – eventually fighting under MMA rules.
On his return to England Sam started to hone his Thaiboxing skills fighting as part of the Lumpini Thaiboxing Team here in Crawley and working on his Brazilian Jiu Jitsu under Black Belt Keith McKenzie.
An Osteopath at the Body Health Clinic and sports masseuse by trade – Hewitt is looking to get back on the mat this month in preparation for the British Open held in May.  One of the UK's most prestigious tournaments Sam's setting his expectations high and will be looking for another placement.
For anyone interested in learning Brazilian Jiu Jitsu, Wrestling or MMA you can get in touch with the gym on 01293 552 511 or enter your name on the inquiry box on this page.