I'm a massive fan of martial arts.
I know I'm biased but I've experienced it and I've seen it – over and over again.
I've see kids (and adults) come out  of their shell, grow in confidence and watch people start to like themselves all courtesy of that feeling and sense of achievement you get from martial arts.
There's something very different about martial arts when it comes to learning about discipline and respect.  Sometime that's often lacking in modern team sports (I'm thinking football in particular) as parents roar from the sidelines, shout at the referee and the kids emulate their favourite players with diving and dissent.
Like I said – I'm biased – plus I wasn't a great football player at school and "Yes" I know that not all parents or children are like that – Alan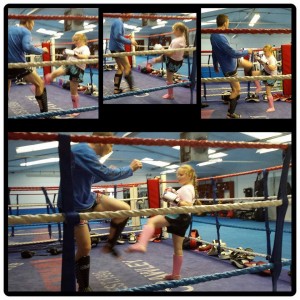 Yesterday I had a lesson with Kira who's been coming on leaps and bounds during her time here and who promised to go light with me when we sparred during here private lesson yesterday.  There was no head contact – I needed to make sure I had a fighting chance of surviving 😉
One of the nicest things about getting kids into martial arts is that I have a chance to help and guide them.  And while I can never overwrite the lessons they learn from their parents I can be a positive role model for them.
Plus I'm proud to know that I'm helping the next generation of Muay Thai enthusiasts, fighters and – one day – instructors.  I'm helping to shape my future replacements and – fingers crossed – they'll be better, stronger, nicer, more helpful and surpass me.
So Kira – well done, keep up the good work and YOU are the next generation of Muay Thai!
You can find out more about our Kids Martial Arts classes HERE