Every year we run multiple events that give our members and competitors a chance to put their skills to the test and on display.
From in-house competitions to build experience through to professional fight nights featuring international quality fighters and world champions.
On this page you'll find details of our next, big event…
2nd November 2013 – Muay Thai Mayhem @ the Millenium
For the first time, the prestigious World Boxing Council (WBC) will be sanctioning title fights in Crawley.  The title — held by the likes of Floyd Mayweather — only sanctions fights in Boxing and Muay Thai will be fought for on the 2nd November.
Featuring local fighters — Ruth Ashdown, Paulo Da Silva, Ben Hodge, Alan Sawyer and Jon Lambert — this spectacular show is one of the biggest fight nights locally with standard and VIP tickets on sale.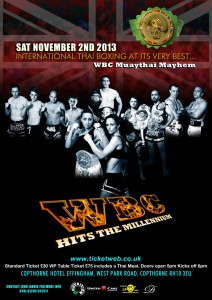 Doors open at 5pm with the first fight starting prompt at 6pm on what will be a fantastic night of explosive Muay Thai and includes a full supporting card of local fighters battling it out under Muay Thai, K1 Kickboxing and White Collar Boxing Rules.
You can find out more about tickets by emailing info[@]crawleymartialartsacademy.com or calling the gym on 01293 552511.